Two Seasons Beach Resort | Boracay Information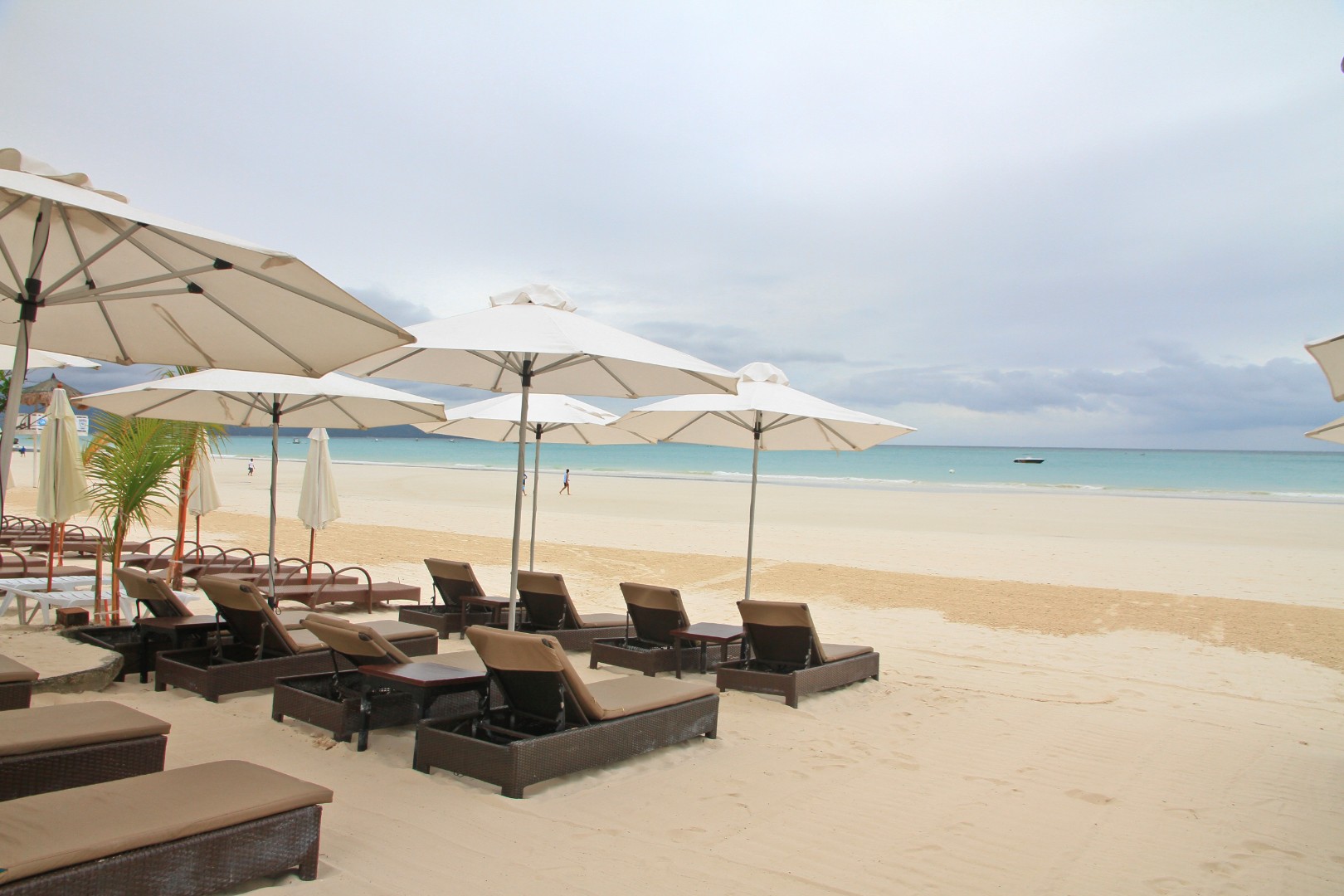 Our beach resort is in Boracay Island, a destination that is considered as among the most captivating places in the tropics. Truth is, its long, white-sand beaches have been recognized by many as among the best in the world.
Here, the beauty of nature, fun, and leisure blend together, making it a recreational haven that is second to none. After a dip in the crystal clear waters, you can engage in relaxing activities of your choice. Comb the beaches on horseback or play an exciting game of volleyball or frisbee on the sand. You can even hop from one beach to another or ride an outrigger (locally known as "paraw") and sail to the other side of the island. Truly, it is a place that never gets tired of giving travelers reasons to linger.
GEOGRAPHY
Located roughly 300 km from Manila, Boracay is a tropical bone-shaped island located at the northwest corner of Panay Island, part of the Visayas island group in central Philippines. It is approximately 7 km long (with the narrowest spot being 1 km wide) and has a total land area of 1,032 hectares (2,550 acres).
Boracay is under the administrative control of the Philippine Tourism Authority in coordination with the Provincial Government of Aklan. It is made up of 3 barangays — Manoc-Manoc, Balabag, and Yapak, which are only 3 of the 17 barangays comprising the municipality of Malay.
CLIMATE
Summer in Boracay spans from March to June, with temperatures reaching as high as 28 to 38 degrees Celsius (82 to 100 degrees Fahrenheit). July to October are the wettest months, while November to February see pleasant winds, cool nights, and occasional rain showers.
Amihan and Habagat
Weather in Boracay is divided into 2 seasonal weather patterns: Amihan (cool northwest wind) and Habagat (west or southwest wind; southwest monsoon), which are commonly associated with the La Niña and El Niño global weather patterns, respectively.
The Amihan season is characterized by moderate temperatures with little or no rainfall and a prevailing wind from the east. The Habagat season, on the other hand, is marked with hot and humid weather, along with frequent rainfall and a prevailing wind from the west.
On Boracay Island, the main indicator of the change between the Amihan and Habagat seasons is the switch in wind direction. In most years, this shift is abrupt and occurs overnight. As a general rule of thumb, Boracay will be in the Amihan season from September or October to May or June. Meanwhile, Habagat will occupy the remainder of the year.
TIME
The island, like the rest of the Philippines, is 8 hours ahead of Greenwich Mean Time (GMT). When it is 12 noon in the country, it is 3 am in London, 8 pm the previous evening in San Francisco, and 11 pm in New York. With the country lying near the equator, sunrise and sunset are almost equally spread at 6 am and 6 pm, give or take half an hour.
GETTING AROUND
Most visitors opt for motorized tricycles or rickshaws, which act as the island's taxis and make up most of its traffic. Rides are inexpensive, and rates vary depending on distance. To find these tricycles, simply go to the Main Road.
ELECTRICITY
The standard voltage of electricity used in the Philippines is 220 volts AC, 60 cycles. However, a few major Boracay beach hotels also offer US-style outlets with 110 volts.
LANGUAGES
Other than Tagalog or Filipino, English is widely spoken in Boracay. Aklanon is also spoken, because Boracay is part of Aklan Province. Meanwhile, the original inhabitants of the island speak Ati.
MONEY MATTERS
Bring a mixture of traveler's cheques and cash. You must also remember that exchange rates are higher in Manila. Moreover, credit cards are accepted in some establishments; most of them charge an additional 6% to 7%. If you're planning to visit a bank during your vacation, note that ATMs are available in the following locations. For over-the-counter transactions, banking hours run from 9 am to 3 pm, from Monday thru Friday.
1. Allied Bank (Main Road, between Stations 2 and 3)
2. Bank of the Philippine Island ­(Inside D'Mall)
3. Metrobank (Main Road, between Boat Stations 1 and 2)
TRAVEL TIPS
Attire – The only way to reach the island from Caticlan is by riding an outrigger or "bangka". Be prepared to get wet from the occasional splash, rain, or quick wade to the beach. T-shirts, shorts, and slippers are the most suitable attire. If you don't want to get wet, porters are more than willing to carry you on their shoulders to or from the boat or shore.
Porters – If you're bringing heavy bags, porters stationed at the airports and jetty ports are always ready to offer their services.
Tipping – The culture of tipping is becoming more prevalent on the island, with influence from western countries. Although nearly all major hotels and restaurants have a policy of automatically adding a 10% service charge to bills, a small token to show your gratitude is always appreciated.
For more information and further assistance during your stay on the island, you can simply approach the staff at our beach resort in Boracay.